Alan and Joe chat at home. Select the arrow keys to hear Alan's story.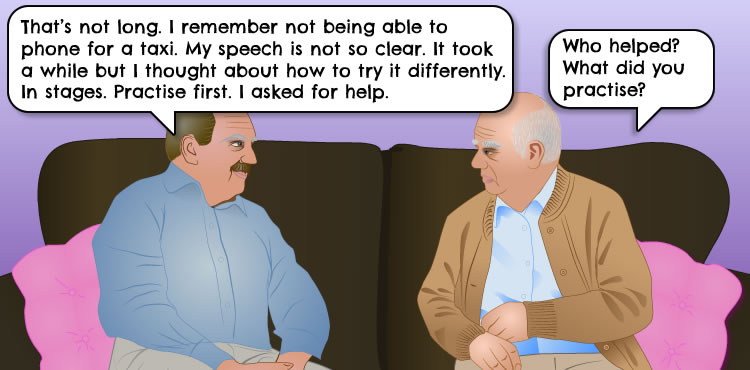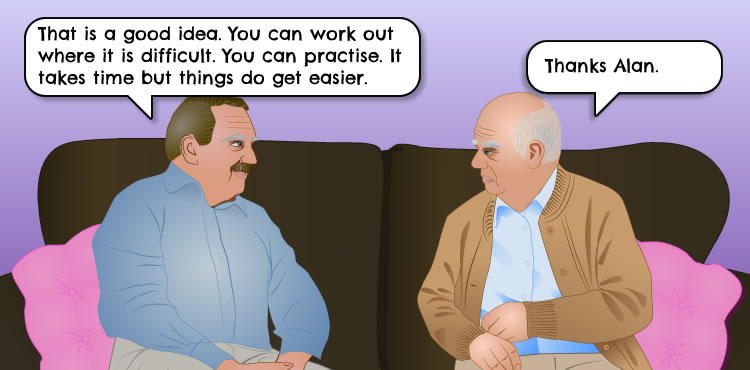 View text alternative
Scene 1
Alan: How are you Joe?
Joe: Not so good. I tried to go out into the garden. I used to do a lot in the garden. I opened the door but I wobbled. I feel useless. I couldn't do it.
Key point: It is good to talk to someone if you are feeling frustrated.
Scene 2
Alan: How long is it since your stroke?
Joe: 6 weeks
Key point: Recovering from a stroke can be a slow process. It's normal to face difficulties along the way.
Scene 3
Alan: That's not long. I remember not being able to phone for a taxi. My speech is not so clear. It took a while but I thought about how to try it differently. In stages. Practise first. I asked for help.
Joe: Who helped? What did you practise?
Key point: Reassurance helps Joe understand that his experience is normal and helps his confidence.
Scene 4
Alan: My daughter helped. She wrote it down for me. That gave me confidence. I phoned her to practise.
Joe: I could ask my son to walk with me I suppose.
Key point: Practise is important, it helps build confidence.
Scene 5
Alan: That is a good idea. You can work out where it is difficult. You can practise. It takes time but things do get easier.
Joe: Thanks Alan.
Key point: Remember to look for solutions, and ways to do things differently.
Key points
Remember you are not alone. Sharing ideas can help you solve your problems and practice always helps.