Charles has stopped smoking.
Please select the arrow keys to see how he did it.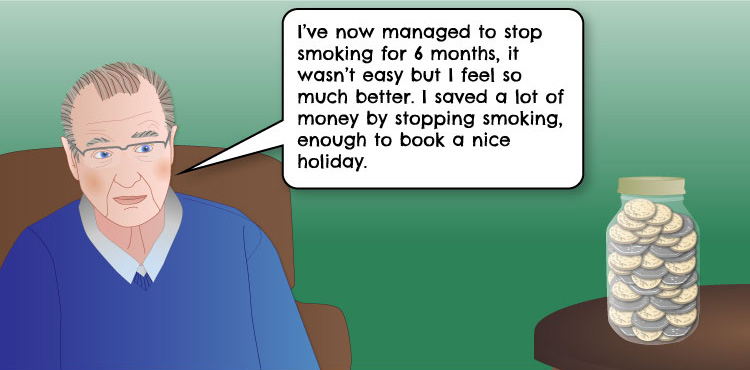 Key point
View text alternative
Charles – scene by scene.
Scene 1 – Charles smoking with a thought bubble, looking miserable.
I started smoking when I was a teenager and I had been smoking 60 cigarettes a day for the past twenty years. After my stroke I decided I wanted to quit smoking so I just stopped and tried to go cold turkey.
Key point – Cold turkey works for some people, but you are more likely to be successful if you have help – a nicotine replacement, for example..
Scene 2 – Charles (looking grumpy) being offered cigarettes from his wife who's smoking (sitting in armchairs)
I didn't realise how hard it would be, especially as my wife is a smoker.
Key point – Most people need help to stop smoking, so don't give up at the first hurdle.
Scene 3 – Charles goes to pharmacist to pick up his medicines and sees the poster (Charles pointing to stop smoking poster)
I saw a "stop smoking" poster in the chemist and so I spoke to the girl behind the counter and she got the chemist over to talk to me. We sat down and had a chat about why I smoked and why I wanted to stop, we discussed setting a quit date and a time to come back.
Key point – Most chemists in Scotland provide stop smoking services.
Scene 4 – Close up of patch on arm
"The chemist suggested a few things to try and I decided to use the smoking patches "
Key point – Nicotine Replacement Therapy – NRT works better than willpower alone. NRT is also available as gum, dissolving tablets and nasal sprays.
Scene 5 – Charles in a smoking group, 3 people sitting down, poster in background
"I also joined a stop smoking group, I got some great tips and support from other members of the group"
Key point – Support groups and NRT together are the most effective for most people. Not all areas will have a stop smoking group.
Scene 6 – Charles at a christmas party, in a squint party hat, smoking and looking annoyed
"I smoked half a cigarette at the christmas party, but I didn't even enjoy it. I felt annoyed with myself."
Key point – You may slip up, but don't be hard on yourself. Plan ahead to avoid being tempted to smoke.
Scene 7 – Charles on Phone to smokeline
"After the party I felt a bit down about it so I phoned Smokeline for advice"
Key point – Smokeline is available if you feel you need extra support. Call Smokeline Scotland on 0800 84 84 84 to speak to an advisor.
Scene 8 – Charles looking healthier, with a jar of coins saved from smoking (Giving up smoking) possibly going to travel agent
"I've now managed to stop smoking for 6 months, it wasn't easy but I feel so much better. I saved a lot of money by stopping smoking, enough to book a nice holiday".
Key point – Stopping smoking can save you money as well improving your health.
Key point
The day you stop smoking your body starts to heal. It's never too late to get benefit from stopping smoking.
Something to think about
Think about how you react to things you find stressful. Do you do something to calm yourself down or make yourself feel better such as having a cigarette? It might help to explore the Stress relief topic.