Since his stroke David feels upset, frustrated and a bit 'down'. Now that he is no longer getting therapy his mood has dropped further.
He can't be bothered with reading or looking at the TV; food doesn't interest him and he is having trouble sleeping.
Select the arrow keys to hear more about David's story.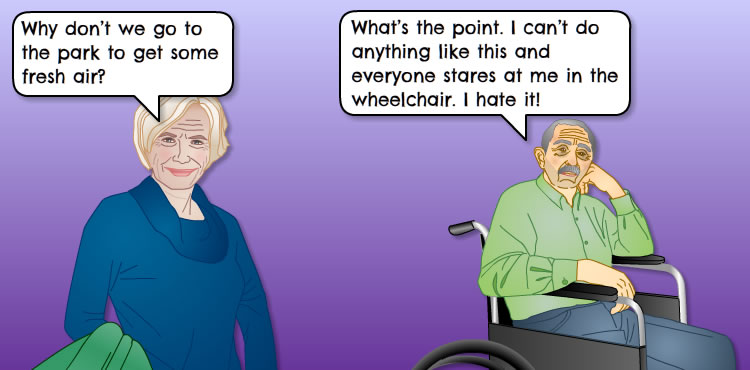 View text alternative
Scene 1
Wife: 'Why don't we go to the park to get some fresh air?'
David shouts: 'What's the point. I can't do anything like this and everyone stares at me in the wheelchair. I hate it.'
Scene 2
David: thinks 'I'm fed-up being like this. If I don't talk to someone about this it will only get worse.
Scene 3
David feels bad that he shouted at his wife and recognises he needs someone to talk to. He calls his stroke nurse to ask her advice.
David: 'Hi Susan, I wonder if I can ask your advice'
Susan (the stroke nurse): 'Hi David, yes of course. Let's see what we can do…'
By calling his stroke nurse David took the first step to addressing his warning signs. Chatting to the nurse allowed him to get things off his chest and to look at his goals again.
Let's remind ourselves about how to set goals.